Termocompo Lda was founded in 1995 by its three present partners whom have been in the SBS compound production since 1983. Each partner follows one aspect of the company, comercial, quality and production.
Production began in 1995 and today Termocompo has two modern semi automized production lines based on twin screw corotating technology which allow for versatility and speed in responding to the market's requests with a garantee of quality control. With a total productive capacity around 9.000 tons year of TR compounds and consolidated market leader position in Portugal and strong presence in Spain, Termocompo is now entering new international markets offering quality and rapid and efficient reaction to customer needs.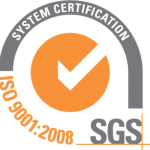 Termocompo, Lda is inserted in a highly technical and competitive market, and as such, in order to guarantee the quality, the company bets on the implementation of the NP EN ISO 9001 standard, committing itself to implementing and continuously improving the efficiency of the system through the periodic review of quality objectives, and compliance with customer requirements and all other applicable statutory and regulatory requirements.
In this regard, the main objectives for Termocompo, Lda are:
Acting always geared to continuous satisfaction of its customers;
Encourage the development of professional skills of its employees;
Identify and continuously improve the technological quality, the quality of goods and services.
The Management of Termocompo, Lda commits itself to the fulfillment of these objectives, systematically making available the necessary means to guarantee, in a permanent way, the quality and ensuring that they are widely distributed and understood at all levels of the company.
To be a reference company in the production and marketing of thermoplastic rubber (TR), standing out for product quality and quality of customer service, innovation and cooperation with other partners.
Providing high quality products, meet delivery dates and with all the requirements requested by our customers, in order to obtain their satisfaction and better profitability of the business.
Termocompo considers as relevant stakeholders for its management system the following:
Company partners
Customers
Contributors
Financial entities, officials
Providers
Community, society
Needs and expectations of stakeholders: comply with product requirements, legislation, licenses, deadlines, timely payments.